WHAT IS
NEMESIS?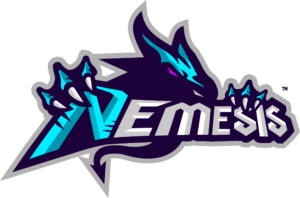 Founded in 2017 by esports industry professionals, Nemesis is a growing Organization with a focus revolving around live streaming entertainment and creative influencers dedicated to top-tier content and gameplay.
"Our goal is to become an innovative world class organization and household name in online entertainment ranging from content creation to world championships."
We plan to continue to grow our entertainment brand alongside the amazing Nemesis influencers and it all starts with you, the content creators. We take pride in our friendly atmosphere within Nemesis and nothing compares to the feeling of helping our creators in a variety of ways that ultimately strengthen their brands and target growth for Nemesis as a whole.

Nemesis
Esports
Nemesis has many accomplishments in the world of Esports, with team representation across a variety of games, having competed in CSGO, Call of Duty, Quake and more.
We are always on the look out for top-tier talent, so if you're interested in representing Nemesis in competition, please email your professional resume to maz@nemesis.gg
WE ARE YOUR
NEMESIS
Our organization isn't solely focused only on Esports competition; All varieties of streamers are welcome within Nemesis. Through a diverse selection of game categories, Nemesis aims to reach our fans/viewers and we are proud to celebrate creator diversity. Nemesis is a melting pot of individuals that hold values of inclusion for all walks of life and we support all members of the LGBTQIA2S+ without prejudice as well as stand for equal rights with strong values supporting the fight against racism and social injustice.

Nemesis is a home for a robust selection of content creators where we offer opportunities to learn, teach and discuss the challenges surrounding this industry.

#NemFam | #WeAreYourNemesis 

CHECK OUT OUR
NEMESIS TWITCH TEAMS
NEMESIS IS HOME TO A ROBUST VARIETY OF CONTENT CREATORS ON TWITCH.
We have 3 tiers that we showcase to our Nemesis fans which are very easy to start interacting with and even a community team for streamers that are still growing and finding their place.
Nemesis Pro
Nemesis Partnered Streamers & Pro Players 

Nemesis (Main Team)
 This is our main and flagship team on Twitch that is full of streamers that we feel have something unique to offer our fans in the entertainment realm. We are really here to help them crush their goals and grow as content creators and see them ascend into the highest tiers possible. Although all of our Nemesis Pro streamers are on this team as well, we feel that the streamers on this team are the shining lights of Nemesis who will one day make Twitch Partner alongside their "Pro Streamates"

Nemesis Community
Where everyone is welcome to join our Nemesis Family or "NemFam", that houses a Variety of streamers who support each other & want to be a part of Nemesis regardless of follow count or viewership numbers.
WEEKLY CONTENT
SHOWCASE
Our organization regularly showcases our streamers with our "Nemesis Top Clips Of The Week" where we show off some of the greatest moments from Nemesis Streams in the past week.
We also dive into who our creators are with a weekly segment called "Meet Your Nemesis" so you can get to know our top streamers!
COMMUNITY
EVENTS
Regular community events are a great way for content creators to cross pollinate their fan base on stream. We have community events planned each month and we encourage our streamers to make the event if its something they are interested in!
SHOP
NEMESIS
Gear up with some Nemesis swag at our custom stores!
View our current merchandise at the two stores below