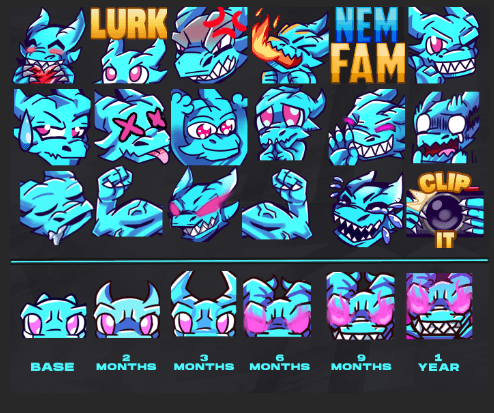 NEW Nemesis Emotes On Our Team Twitch Channel!
Greetings NemFam!
We just got our new emotes for our team channel on Twitch and they are SICK!!!
Our channel is Partnered on Twitch so we have 6 Tier 1 Emote Slots, 5 Tier 2 Emote Slots & 5 Tier 3 Emote Slots.
The plan is to get enough subs on the channel to increase the emote slots and move all of the emotes listed here to TIER 1.
We want to do this so everyone who wants to support the Nemesis Team Channel can do so at a cheaper price while being able to utilize all of the emotes available.
For Tier 2/3 Subs we are planning to add their own emotes eventually with additional perks that will make the higher sub tiers viable for the increased sub price.
Please go check out the channel and take a look at the New Emotes & Sub Badges, you WILL NOT be disappointed!!
Go Follow The Nemesis Twitch Here:
#WeAreYourNemesis
– INSTILL